SUGCON ANZ is well underway in Sydney, and with Day 1 done and dusted we have had a chance to catch up with our Triggerfish team on the ground - Anthony Hook, Mark Gibbons and Marko Tsoi, to get their insights on what sounds like a great event so far.
---
Anthony Hook, Commercial Director says;
Alongside more than 250 developers, it's great to see a number of marketers and digital leaders joining the event to get a deeper understanding of the capabilities of the product – helping them get on the same page as their IT and development teams.
The Sitecore partner session was refreshing to see a renewed focus on the business case development services and value engineering, and whilst the new maturity model changes look promising, we'll have to get some more detailed briefings on how this helps organisations harness the Growth Driven Design in their business.
Damian Brady talked about the power of Azure DevOps, how to empower developers to deliver value and achieve a measurable cadence by working on the right things, at the right time. Accountability with tools and metrics was also discussed as a key part of getting the "ops" part of DevOps right.
James Hirka's talk on speed was timely, sadly, along with many other MarTech platforms, Sitecore deployments don't focus on speed of solution and experience, yet it's a huge measure of both skill and value.

In my opinion, Brady Clark from R/GA had the best session of the day. He enforced that for sites where content editing is constant and a dedicated role, make sure you include the content team continually in the implementation and improvement of your CMS rollout. One point to note, that SXA is going to change his life!
---
Triggerfish's Technology lead, Mark Gibbons presented his talk titled, "We put 9 Marketing Automation plans and 30 EXM campaigns live. You'll never guess what happened next."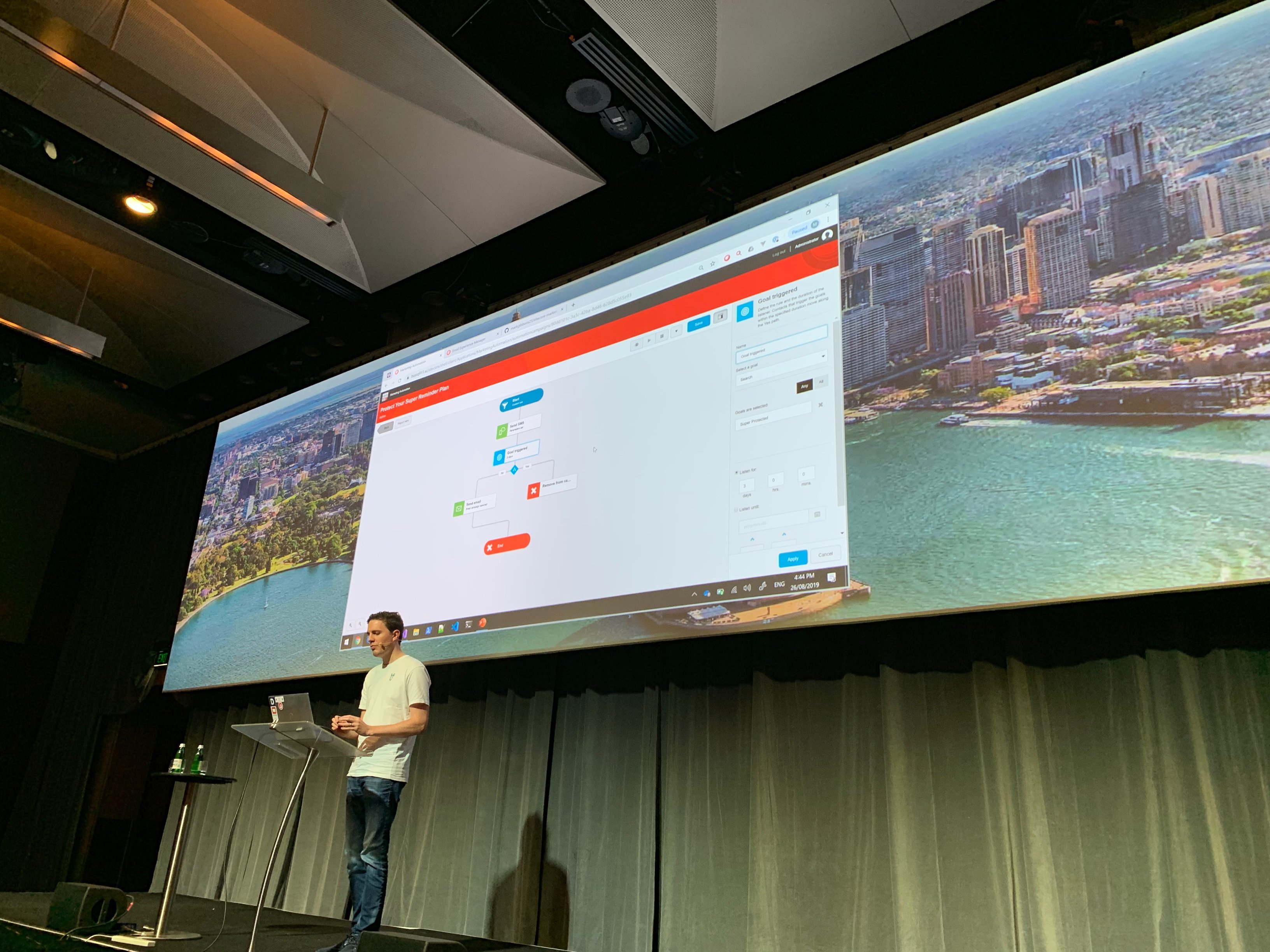 To wrap day 1, Mark said;
With tickets sold out at just over 260, I definitely felt an air of anticipation and excitement as registration opened for day one. I wondered if the event would live up to its older siblings of SUGCON EU (of which I had the opportunity to attend this year) and SUGCON India.
The keynote was a resounding success as everyone jumped on board with Damian bringing us on Microsoft's DevOps journey. Key takeaways showed me that blended cross functional teams and having everyone on the same toolset has had great success in allowing Microsoft to deliver faster.
The next session by Alex Shyba launched his new Sitecore module Sitelify which could be revolutionary in terms of unparalleled delivery of content as efficiently as possible – offloading almost all processing to the client side.
Over the course of the day the "Networking Track" was showing its value as I was able to share ideas and learnings with all the big names of Sitecore both on the community side and Sitecore themselves.
I thoroughly enjoyed presenting my talk, and all in all, day one was a great success. I'm looking forward to seeing what Day 2 has on offer.
---
Mark Tsoi, Sitecore Developer was also in attendance representing Triggerfish's strong Sitecore capability.
Marko's impressions of Day 1;
I enjoyed hearing Damien Brady's keynote on Microsoft's 10-year journey from a 3-year release cadence to a 3-week cadence (with the ability to release in one hour if necessary).
Alex Shyba's talk on JSS was enlightening, especially the integration of JSS and Jamstack to produce very quick sites. Sitelify will be something to watch with interest in the coming months and years and I will be keeping an eye on that.
I've always been interested in the docker ecosystem, and it was good to hear from Gitesh Shah and Rey Rahadian that it's now at the point where we are able to containerise Sitecore and associated services. I will be looking forward to investigating this further after this conference.
---
Stay tuned for our wrap-up of Day 2!