Attending Sitecore Symposium 2019 was a year of mixed emotions for me.
On the one hand I was looking forward to experiencing the latest and greatest technology that Sitecore has to offer, with the promise of v9.3 and no real understanding of what was coming afterwards, so I was hoping to see what v9.4 would bring us as well.
I was also looking forward to mixing with customers and partners to understand how the ecosystem is working for them and understanding how they're being successful with their customer implementations.
The future of Sitecore and SaaS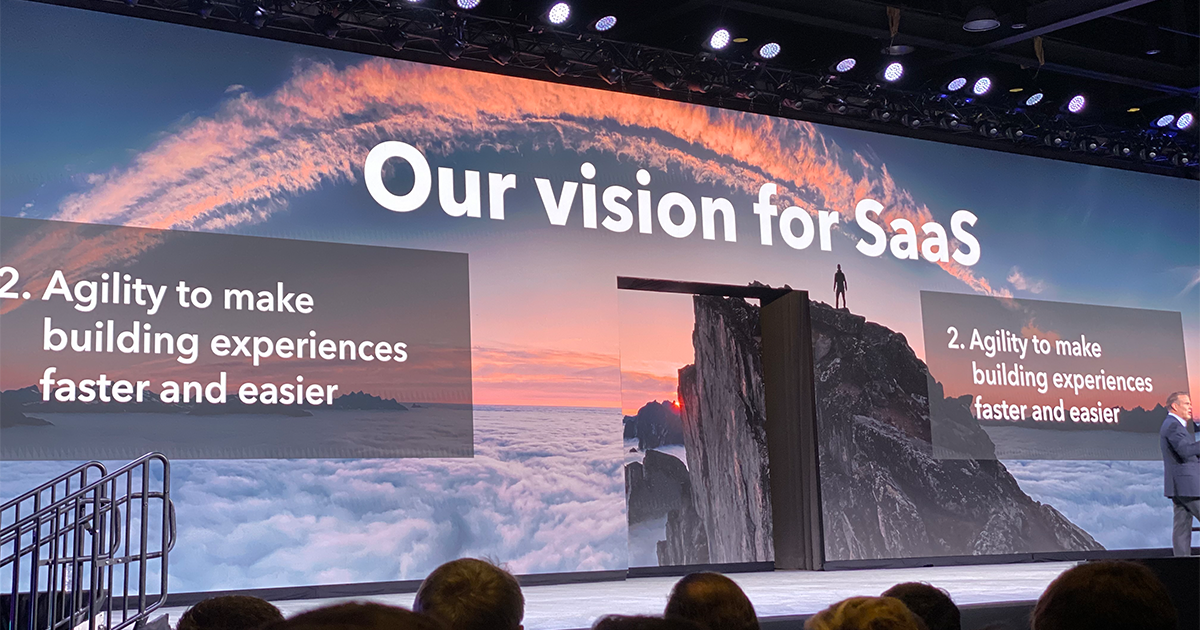 Future first, Sitecore announced its own software as a service (SaaS), offering due to be launched mid-2020. As announced on stage, it would be for limited use cases only which I speculate as being a low-to-mid market offering, and really focused on those looking to build good websites with personalisation. My suspicion is it will make heavy use of Sitecore SXA, pre-built templates, and hopefully the creative exchange product/approach. I suspect there will be some advanced developer integration capability, a focus on things like Azure DevOps and Visual Studio Online, but whilst many of these tools are production capable, the developer and agency mindset may change at a much slower pace and then you have to consider the significant changes to delivery workflow.
As previously with Sitecore releases such as Cortex, Horizon, and even going back to Sitecore v7.5 and 8.0, my gut feel is it'll be closer to early 2021 before the SaaS product is tenable as a commercial proposition for partners to work with. The other consideration is how much we invest in the Sitecore on-premise product in the meantime, which will only really be clear with time. Sitecore will need to be confident and clear with their partners and customers about their investment in SaaS versus non-SaaS offerings and what the eventual destination of the product is.
Sitecore AI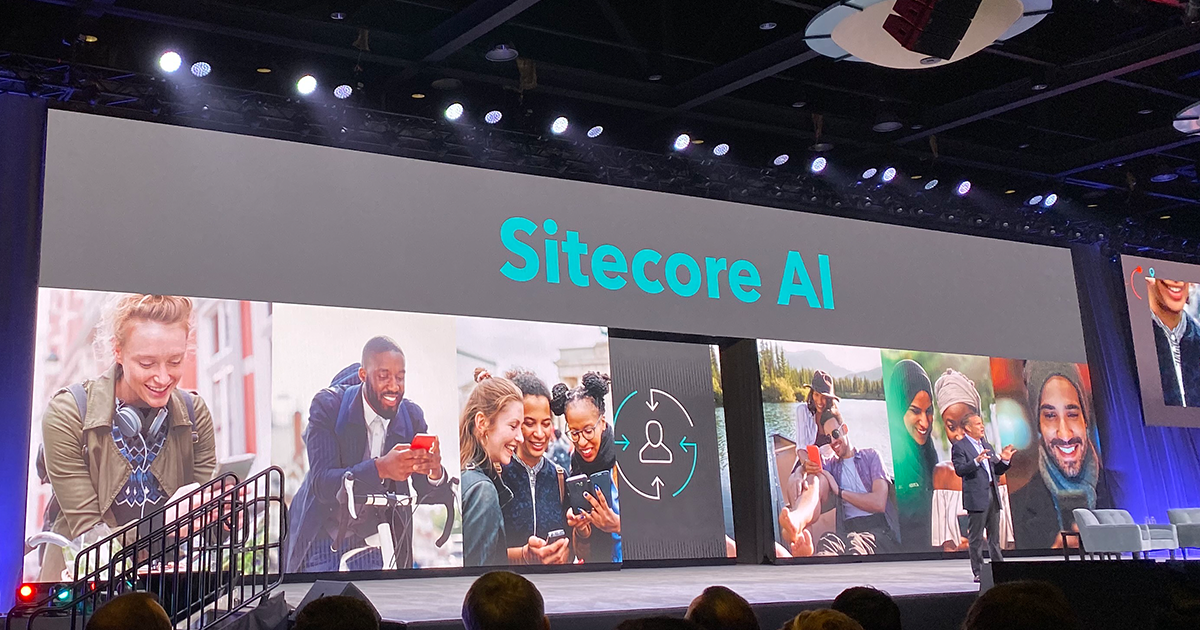 This is a premise that's been coming for a number of years with the Sitecore Cortex product. Cortex, being an ingestion and export engine for machine learning models that allows customers to export their data from Sitecore XDB into a number of other machine learning systems - is something whilst there are brilliant case studies from the likes of Kagool, Brimit, Amanda Shiga and RACWA, it's had mixed adoption.
There are definitely use cases, but nothing that we have seen to be production grade or life-changing from a personalisation or marketing automation perspective. I did notice that the Cortex name was not used at all in any of the marketing messages throughout the event, but Sitecore AI was. This led me to assume that this is a rebrand, or are we right in thinking it is indeed a separate product? In any case, it's something that needs to be cleared up when helping partners with their communications messaging.
Automated Personalisation

The premise of automated personalisation is interesting. I believe it has the potential to allow marketers to spend less time thinking about what segments they are targeting, and in what order. But what it doesn't do is take away the need to develop content specific to those segments. I foresee that there will continue to be a gap in capacity and associated frustration when taking the automated segments that are determined by the system, and the process of attributing content that you choose to show to those people. When the AI system can write and optimise my words and pictures, that will be a game changer!
Assuming we have the ability to write content, one of the apprehensions marketers have around personalisation at scale is, "How do I know that the right person is being shown the right content? And what about the impact of showing the right person the wrong content?". This then leads to a typically cautious or non-existent approach to personalisation.
Creating the opportunity for marketers to do personalisation at scale with confidence is certainly attractive, but what the proposed solution doesn't do is take away the need to develop that vast amount of content for those segments. It does appear to be a bit of a chicken and egg scenario; you need different pieces of content to determine the relevant personalisation effects - and machine learning to determine which personalisation segments are working; while you also need to develop content. But on the other hand, you're not necessarily going to want to develop the content unless you know what segments you're optimising for.
But, how does it work?
One thing that wasn't clear in the official presentations is explanation of the algorithm that underlies this automated personalisation. I'm sure many partners and customers are wondering whether this a proprietary service that Sitecore is offering, that we can subscribe to, or do we have to subscribe to Microsoft Machine Learning, or Azure Machine Learning services and define/refine the models ourselves? It certainly seems to have a really, really good B2B used cases, proven with Microsoft's example presented on stage with the awesome, new Microsoft Partner Network.
One thing I am confident in, is the vast amounts of data we have across all our customer xDB's, we're looking forward to getting this automated AI unplugged and finding out how it can help our customers.
Content Hub
The Sitecore Content Hub was not featured as heavily as expected it to be. There was a lot of messaging around Content is King and the content problem that we are experiencing in the world of today. However, there wasn't as many defined used cases or clear demonstrations and examples of exactly how the Content Hub product is solving our issues.
One of the things that Triggerfish truly understands is the complexity around building content, messaging and go-to-markets. This is about not only developing a great value proposition for the business and the customer, but also creating different buyer's journeys that address your proposition. Once you have your journey or journeys, and attributed personas mapped, your offers can be targeted to your different segments. Here at Triggerfish, that journey of creating the right content very much starts with a whiteboard and a pen.
Solving the real content crisis
Whilst that I agree that a great content management system and a great digital asset management system that work in harmony really does help a lot of the heavy lifting, what it doesn't do is solve the thinking problem. Thinking and structuring around topic clusters and mapping content to specific segments is something that isn't necessarily covered in any of the materials.
I think it's important for our software vendors to create confidence that they truly understand the complexity and time involved in content creation, and how they can help customers understand how we can more efficiently curate and manage the thinking process through the life cycle. Either way, Content Hub is a phenomenal product, it's very, very capable and it's something that we are looking forward to implementing for a number of our customers.
From a commercial perspective, partners and customers could benefit from a clearer Content Hub pricing structure so that we can better understand how features will be reflected in financial commitment. We'd certainly like to see a Content Hub 'lite' product, that we can embed within a number of our customers or even some of the core capabilities pushed into the core product. Maybe that's something that will be reserved for the SaaS solution in the future, but it's certainly something to worth considering and understanding how partners can get in at the ground floor on the Content Hub story.
The conversation around commerce
I was anticipating a good conversation around Sitecore Commerce when browsing the main keynotes and presentations. There was a dedicated Commerce track which appeared to have plenty of success stories, which is really heart-warming. I was glad to see a number of customers standing on stage and really showing what they're capable of doing. I know there are some great case studies from Sitecore partners like Switch here in Australia, doing great stuff with Tyreright.
Commerce is not something that Triggerfish focuses on specifically at the enterprise level, but is it still great to see so much success being showcased.
Success in the platform
As an ex-Sitecorian, one of the best takeaways from customers and partners this year was the sheer amount of success that people are having with the platform.
From Sitecore content management, SXA, building out sites on Microsoft Azure, to teams being genuinely happy with the capability in the product. I think this is a result of the number of large and valuable improvements in Sitecore 9, 9.1, 9.2, and subsequently 9.3 coming - but I think it's also a maturation of the market, with implementation partners having a better understanding of how to deliver web projects faster.
Partners are working better with their customers around activating, deploying and managing Sitecore. I still think there's a number of things that could be better, but certainly, the Sitecore product is probably the most stable it's ever been. I spoke with a number of UK/US partners and customers who were really showing signs of success with the platform.
I did see a couple of stumbling blocks, especially around things like Microsoft Dynamics and Salesforce integrations. These integrations are really hard to crack, but it is reassuring to know that teams are coming across the same consistent issues. Issues like field mapping, master data management strategy, or how to agree which fields to copy and which fields to no, are all common questions and concerns we are hearing.
Marketing automation also featured heavily, and how we can leverage vendors like Microsoft to extend the marketing automation system quite considerably. We have done some great work with BUSSQ Super using this capability. It is great to see partners and customers enjoying being in the Sitecore world, and recognising the importance of making good bets on vendors who really understand the commercial value for marketing technology.
I see that decision making is maturing as we hear from people like Scott Brinker, Chief MarTech and the digital clarity group investments in marketing technology are now being scrutinised more than ever. The challenge to be flippant around your technology purchasing no longer exists.
To wrap
This was a great year for Sitecore to show that from a product and capability perspective, they really do have a handle on where their customers are at. This year will be another critical year, where the messaging needs will need to be precise and timely so customers and partners can maintain that level of commercial viability when it comes to their marketing technology stack.
So for me, Sitecore Symposium 2019 was a success. I really enjoyed a lot of the talks, the breadth and depth of content, and production quality of the event - it's world-class, having attended other events including Dreamforce, Microsoft Inspire, and even the MarTech events across the globe. Sitecore Symposium really is a world-class production and certainly valuable for anybody that attends.
If you didn't learn anything at Sitecore Symposium, then you must've been in the wrong place.