My response to Scott Brinker's: The New Rules of Marketing Technology & Operations
For those of you who don't know who Scott Brinker is, he's the current VP Platform Ecosystem Executive at HubSpot (one of the Martech vendors we work with), he also started out the below (in)famous Martech landscape super graphic in 2011 that now has 7000+ vendors on it through his ChiefMartech blog.
It's a very interesting piece, something close to my heart and why we started - and are still having - some great cut-through success with Triggerfish Martech and Marketing Operations thinking and delivery.
While the content in the above blog is amazing… it's a pretty heady article and with my 'simplify' hat on - I wanted to summarise the key aspects of his thinking, propose a simpler way of looking at the WHAT and introduce HOW we at Triggerfish are solving this problem today with many companies.
The overall article positions the challenges that confront modern marketing organisations and how Marketing Technology Operations is poised to help (the WHAT).
The Critical Link
It initially positions Marketing Technology and Operations as the critical link between Strategy and Operations. In terms of today's modern marketing organisations this a key component that allows you to shape competitive advantage in an experience-led economy.
A Paradox of Trade Offs
It then gets to the heart of Marketing Technology and Operations challenge – that it's a paradox of trade-offs. It's the paradoxical nature of digital marketing activities that cause Modern Marketing Operations businesses to go into analysis-paralysis.
Brinker proposes a quadrant model that has Centralise <> Decentralise on the horizontal axis and Automate <> Humanise on the vertical axis, with Change at the middle of the Quadrants to make sure all aspects are considered and covered by an organisation.
Martech helps break the paradox of Centralise <> Decentralise trade-off by providing both centralise (the Martech platform) and the decentralise (the ability to use Martech platform to get specific tasks done without central control i.e. CMS publishing).
Automation helps break the paradox of the Automate <> Humanise trade-off through scaling processes and delivering an 'efficient' experience for the customer. How much to automate (which also relies on good data – another paradox in my opinion); how it's segmented; and whether its aligned to the Job-to-be-done, are all big questions I see every day and ultimately form the commonly asked question "what's the right process to automate in order to deliver ROI?".
A Model for Action
By then looking at each of the four quadrants, we can come up with a hit list of what to focus on.
Centralise & Automate: Standardising tools, data and processes;

Decentralise & Automate: Inspire small teams to experiment, optimise and bring their own tools;

Decentralise & Humanise: Encourage marketers to spend more time with customers to build Authentic experiences;

Centralise & Humanise: Build marketing enablement tools and processes to best leverage Martech capabilities;

Embrace Continuous Change: No once-and-done Marketing projects, change is at the heart of everything in each of the quadrants.
A simpler proposition
My simpler version of the above is as follows:
"Automate the known so we can spend time Humanising the unknown and embed it in an Operational Rhythm that enables Change."
How you do that is where the magic comes in.
It's also why we started Triggerfish Martech - to help organisations find and deliver their competitive advantage.
Our What is helping businesses leaders deliver profitable growth by understanding their customers and helping their people create an operational rhythm with Marketing and Technology.
From 25+ years of building businesses and operating in global technology, and Marketing businesses, I know first-hand that organisations are funny beasts, full of competing teams and priorities – often totally misaligned with the business priorities, too.
The barriers I see we need to break down in our Humanise step include:
Dots are rarely joined so that product owners and users are on the same page;

Bets are too big – they become so big they are black holes and suck everyone into them;

The Job-to-be-done for the Customer is poorly understood and are rarely, if ever, documented;

It's hard to be operationally-minded – projects, campaigns and short-term thinking are pervasive and safe;

Experience is varied – a large percentage of the people in senior marketing positions today are promotions experts – not to say that will stay forever;

The speed of operations is hampered by the risk of technology change;

Picking or discovering the 'right' investment for Marketing ROI requires teams to make mistakes.
The Barriers I see we need to break down in our Automate step include:
Martech is being proposed and bought as the solution – it's not, it's just a tool;

Lack of clear customer segments – a first step to making sure who we are speaking to is authentically written;

Understanding the customer buying funnel – clear problems and stages need to be articulated;

Criteria for success is unclear – what does success look like for the business, not just my team;

The Data isn't complete or correct – data is seen as such a large and complicated problem that no progress gets made.
The Barriers I see we need to break down in our Operational Rhythm step include:
How do we work on the right things? – With limited time and focus, how do we build shared agreement on what few things to focus on?

How do we work on metrics that tell us whether our efforts are working or need adjustment - weekly?

How do we work on activities that add real value to customer acquisition/sales that aren't too far up the funnel?

How do we get the organisation used to progress, not perfection?

How do we build tools & processes for the teams to scale around – to spend more time on Humanising issues.
The Barriers I see we need to break down in our Marketing Technology step include:
How do we get technology out of the way so that Marketers can clearly and confidently change at the Marketers' pace;

How do Technology teams embrace a pace of change which has daily releases as normal;

How do we get developers just working on Development, rather than Infrastructure;

How do we get technology teams to look at Martech as an operational investment?
The Triggerfish Experience (our HOW)
To get the most out Marketing Technology and use it as a key link to deliver Competitive Advantage in an experience-led economy, we've developed a thinking + doing process that is how organisations can make progress with Marketing Technology Operations, regardless of the Martech platform they are using.
Align your efforts – make sure that the business goals are clear, and that the leadership team are on the same page;

Understand the Customer – that means actually spending the time to speak with your customers and understand their buying journey;

Be clear about your Value, choose your Focus – what is the value you're offering your Customer? Are you on an acquisition, retention or nurture journey path to realise that value?

Does your content help or hinder – Just enough content to set context and help along their buying journey (that means different things to different audiences);

Are you answering questions, or causing confusion – Are you organising digital information in a way that helps solve, answer and compare?

Are you moving prospects along a journey – Does your buying funnel drive a result, and if not, does it catch them and put them back on the right path to complete the journey?

Are you building digital profile segment – as a result of interacting with content, funnel and activities should build segments that allow for the delivery of authentic campaigns, and utilise Martech process tools of Email, Automation and Personalisation;

Is your Martech stack right-sized to deliver a marketing-managed integrated experience – how integrated is your experience to profile, segment and deliver data back to the business on Acquisition, Retention and Nurture focus, all while executing at the speed the Marketing team wants?

Are you prioritising the right things to work on each quarter - are you aligned to the Strategy of the business and do you move the business and Marketing Operations along the Maturity curve?

Are you implementing a weekly rhythm that tracks progress - against the quarter deliverables, share weekly metrics that align to your Marketing Focus, allowing you to deal with issues and make course corrections every week?
What we have found by following the Triggerfish Experience is that it tackles the barrier of change in organisations head on. It favours analysis-backed action over guessing. It makes it ok to just do a few things, because they are the right things to do. It gets Business, Marketing and Technology silos on the same page and delivering business change within 3 months – not 18 months. It uses our Value Decision Model to be pragmatic, effective and achieve business goals.
We are enabling large organisations to get their Marketing Technology Operations in place, helping them build out their competitive advantage in the experience-led economy.
Our Value Decision Model
We see our ability to make pragmatic decisions is based on three things:
Right thing for Customers: Meets the Job-to-be-done, fast and lightweight experience.

Right thing for Marketers: Easy to use and make quick changes, speed of response. Just the things that matter operationally.

Right thing for Us: Maintainable platforms that are not overengineered, are upgradable and timeless.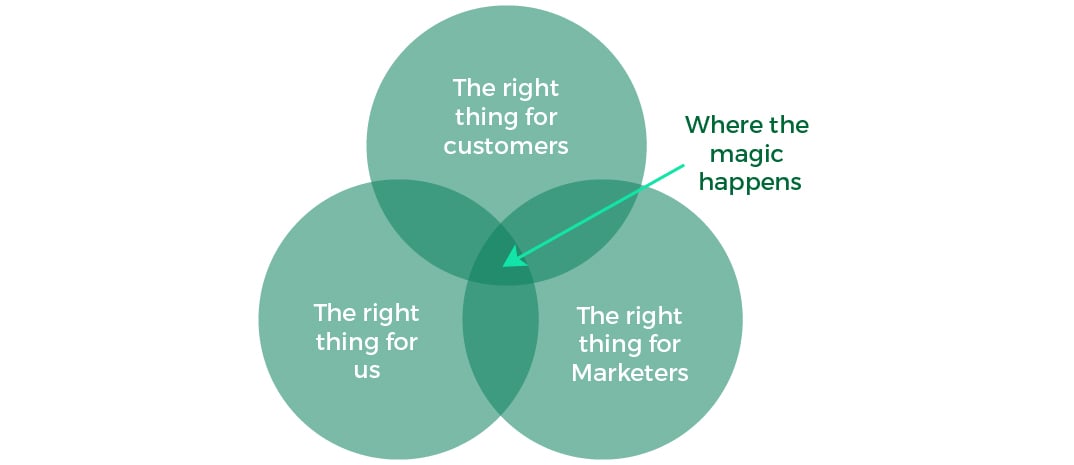 Do you have a clear view of your Martech stack?
You might have an idea, but do you really know how each is contributing to delivering your Marketing and Business goals?
If the answer is no, it's time to find out.
In just 90 days, we have been able to operationally transform the way our customers deliver on marketing and business goals. With a defined path to success agreed and understood by all, we address your Martech hygiene, create and deliver benchmark for measuring success.
Get started today!